In 2021 Lake Sunapee direct waterfront home sales were lower than normal. A total of 19 lakefront homes sold compared to 31 sales in 2020, and 22 sales in 2019. This is the fewest number of Lake Sunapee waterfront homes sold going all the way back to 2009, with the exception of 2018.
Although transactions were down, the median sales price has continued to increase coming in at $2,100,000 ($580,000 higher than 2020). Average days on market fell from 45 to 24 and the total Lake Sunapee sales volume for all lakefront homes sold is $44,479,000.
One number that we always find fascinating is the cost per-foot of Lake Sunapee waterfront. Out of the 19 lake house sales, there was 3,602 feet or .68 miles of Lake Sunapee shoreline that sold bringing the cost per-foot to $12,348, up from $11,939 in 2020.
2021 also saw the second highest sale on Lake Sunapee at $6,940,000, located on Burkehaven Lane in Sunapee and sold by our very own, Dan O'Halloran.
If you're interested in buying a lakefront property on Lake Sunapee or other nearby lakes (Little Lake Sunapee, Pleasant Lake, Kezar Lake, Highland Lake, Eastman Lake, Newfound Lake), give us a call or send us an email, we're happy to discuss the New Hampshire lakefront market, lake homes for sale and what we are seeing in waterfront real estate trends.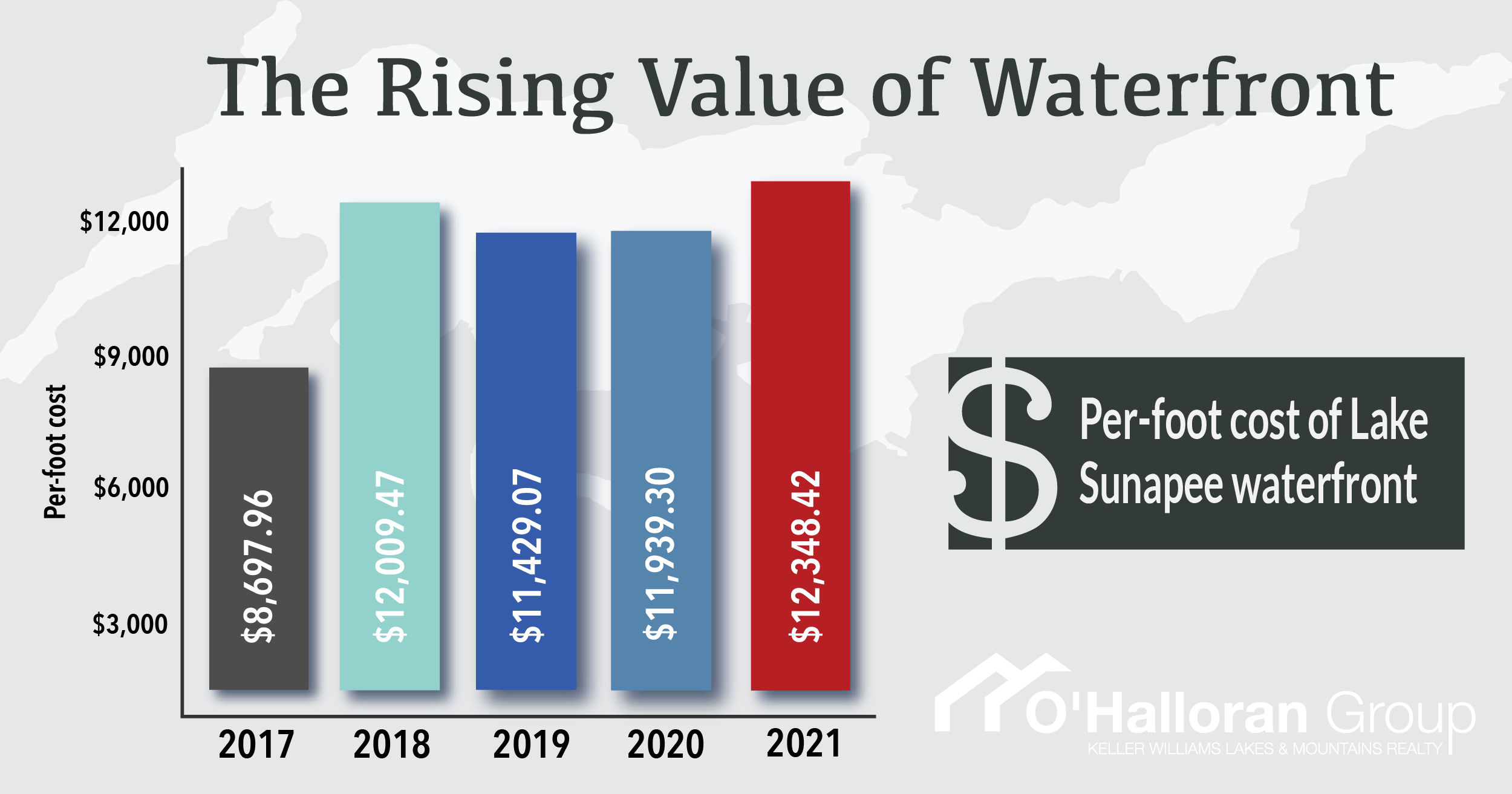 Check out the 2020 Lakefront Home Sales Report here.
Interested in learning about what homes are selling in New London, Newbury and the surround Lake Sunapee Region towns? We've crunched those numbers too! Check out our 2021 annual home sales reports for:
Merrimack County Home Sales
Sullivan Count Home Sales

Sunapee Region Visitors Guide
Need to learn more about the Sunapee Region, our Visitor's Guide is packed with great information on what to do, where to dine, outdoor activities and a guide to our beautiful lakes.

Easily find your Sunapee Region Home with these saved searches:
New London Homes for Sale
Newbury Homes for Sale
Sunapee Homes for Sale
*** Data is from NEREN MLS and is subject to human error. Sometimes information outside of our control is uploaded to the system late which means our numbers may vary slightly.